What's New This Month?
Zimbra Collaboration 8.7.5 is Now Available!
Zimbra Collaboration 8.7.5 is now available, and it provides several bug fixes.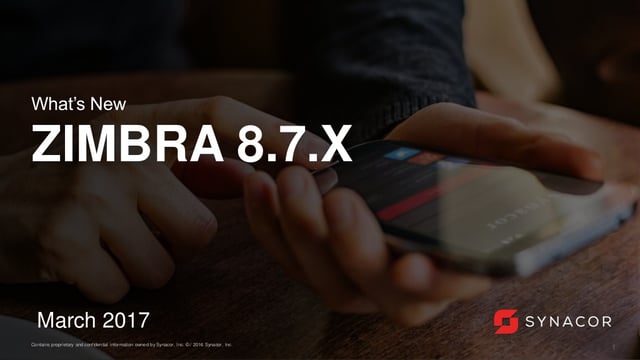 There are two ways to learn more about the bug fixes in Zimbra Collaboration 8.7.5:
Zimbra COMMIT in Action Right Now

Zimbra COMMIT, a Zimbra Tech and Developer event, is taking place in New York City,
March 21

- 23, 2017
. Developers and the open source community are participating in announcements and innovation around Zimbra products as we re-ignite the platform with your contributions.
Here are a few topics being discussed:
Consumer trends shaping the technology needs of the modern communications experience
Inside look at the technology Zimbra is shipping to meet these needs
Launch of the new Zimbra Open Source project to return Zimbra to our roots as an innovative technology platform



Launching T

oday

at #ZimbraCOMMIT: New Email Whitepaper
Email's Open Source Renaissance -- It's Time to Expect More
72% of millennials are bullish on the future of email. Synacor shares a roadmap for email's renaissance tapping into the wisdom of open source.
How consumer behaviors, attitudes and habits around email are changing
Key challenges facing email providers
The benefits of leveraging the open source community to accelerate innovation
That's a wrap! Zimbra Forum France 2017 was a success! Watch our recap video NOW!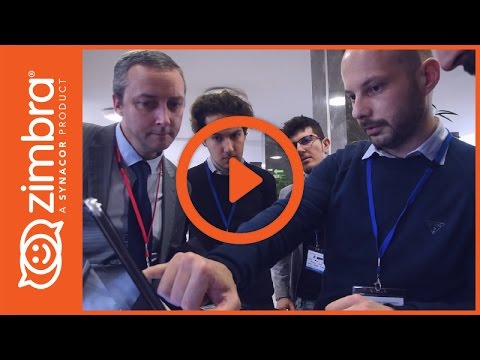 Zimbra Forum France 2017 was a huge success with over 200 attendees celebrating the commitment, quality and re-invigoration of Zimbra. They saw evidence of new Zimbra innovation! Do you want a sneak peek?
Coming soon to Zimbra are:
New UI
New Zimbra Chat
New Zimbra Drive
Zimbra S/MIME- Email Security
Zimbra Desktop 7.3.0 Beta
Many thanks to our sponsors who made this day possible:
We hope to see you next year at Zimbra Forum France 2018 and stay tuned for more Forum(s) coming your way!
Events
Usergroup Dinner- World Hosting Days- Rust, Germany
Date: Monday March 27th, 2017
Time: 6.00pm-9.00pm (local time)
Location: Gasthaus zum Ochsen, Fischerstrasse 48, 77977 Rust
Join us for an informal evening of talk around Zimbra, our relationships and what's in store for the next few months. To sweeten the deal, Zimbra also has managed to get FREE tickets for the World Hosting Days conference. Be our guest and register for free conference access by using this special code: GL16A7D.
Please reply directly to kevin.virsolvy@synacor.com if you'd like to join us for dinner. Seats are limited!
Zimbra Roadshow- Nicaragua
Date: Thursday March 30th, 2017
Time: 12.00pm- 2.00pm
Zimbra tiene el agrado de invitarte a nuestro almuerzo ejecutivo, para Gerentes de TI en entidades gubernamentales, educativas o de empresas corporativas donde daremos a conocer nuestro portafolio de soluciones. Ven a conocernos y a descubrir nuestros nuevos productos, como Zimbra Talk, Zimbra Suite Plus y ver cómo estos pueden ayudar a su organización.

Expand Your Capabilities With Zimbra
Date
: 30th
March 2017
,
Thursday
Location: Jasmine City Hotel , Sakura Room , Sukhumvit 23 Road, Bangkok , Thailand
Join Rhipe on 30th
March 2017
(
Thursday
) to learn how to expand your communication capabilites using Zimbra solutions.

Partner event- Présentation Zimbra/ Vadesecure chez Alma- France

Date: Thursday, April 6th 2017
Time: 2.00pm -4.00pm
Location: 15 rue Georges Perec , F-38400 Saint-Martin-d'Hères, France

Zimbra, Vadesecure and Alma are partnering to run a presentation for you on April 6, 2017. We will show you how Zimbra/Synacor, Vadesecure and Alma can work together to create an out of the box, secure and private email solution.
Webinar- Introduction to Zimbra with StarXpert - France (French)
Webinar- Tuesday,
April 18th, 2017

- 10.30AM (GMT + 1)
60 minutes
This is a live webinar presented by our gold partner, StarXpert. They will demonstrate the TCOs of Zimbra compared to other email collaboration platforms and will allow you to understand the functionalities and advantages of our email software. Finally, they will also run a demo on our latest product, Zimbra Talk. (Webinar presented in French)

Zimbra Forum North Africa
Date: Tuesday April 25th, 2017
On the back of the success of the Zimbra Forum France 2017, Synacor has partnered with Cloud Temple Tunisia to run our first local Forum in North Africa. We are finalising our agenda, so stay tuned for another day full of information around Zimbra, our partners and our community.