What's New This Month?
Zimbra Desktop 7.3.0 is Available!
Zimbra Desktop gives you access to all of your email accounts in one place, whether you are online or offline. It is a free and open source email client application available for Windows, Mac and Linux.
Zimbra Desktop 7.3.0 replaces the Prism framework with Nw.js for all platforms, and it is now compatible with Linux 64-bit.

You can learn more about Zimbra Desktop 7.3.0 in this blog post.
Zimbra Collaboration 8.7.9 is Now Available!
There are two ways to learn more about the bug fixes in Zimbra Collaboration 8.7.9: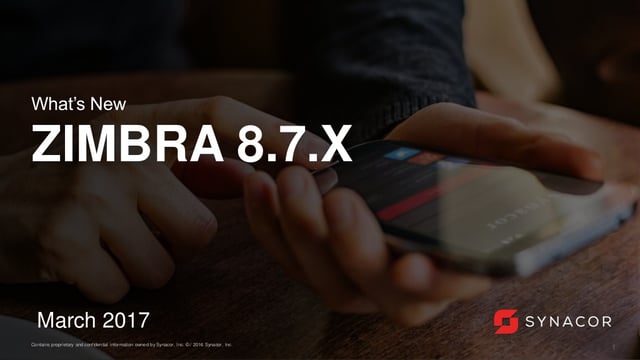 New Whitepaper: A Definitive Guide to Email Security – 14-Step Checklist
Sometimes it feels that the world of email and internet communication is fraught with dangers: ransomware, malware, viruses, cyber-attacks and so on. There are some simple things that you can do to protect your email data and accounts.
This whitepaper looks at three of the most common and real threats and what you can do to safeguard against:
Ransomware, Viruses and Malware
Non-Secure Communications
Data Loss/Leakage
Have you visited the Zimlets Gallery?
Zimlets help you get more out of your Zimbra experience. Zimbra Zimlets™ are a mechanism to integrate Zimbra with different third-party applications to enhance the Zimbra user experience.
Visit our Zimlets gallery and download Zimlets to enhance your Zimbra functionality!
Red Hat Boston Recap!
Thank you to everyone who stopped by our booth to say hello at the Red Hat Summit in Boston.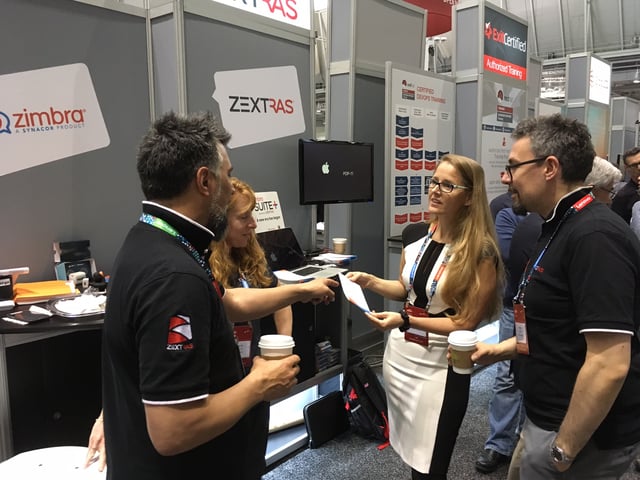 Booth 122 was jumping with activity and expertise. Our Zimbra team was joined by Zextras and L. Mark Stone from Reliable Networks. Mark has been a Zimbra Partner for over 10 years — he is a long time moderator of the Zimbra Forums — and his Zimbra knowledge was beyond impressive.
Events
OpenExpo 2017
Tradeshow-
June 1st, 2017
LA N@VE
,
Calle Cifuentes, 5, 28021 Madrid, Spain
Zimbra, a Synacor Product is joining forces with Quer Systems (our Gold partner in Spain) and Zextras (our technology partner) to sponsor, exhibit and present the Open Expo 2017 conference in Madrid.
Register to be part of the business development through open source technologies, innovation and entrepreneurship. Jorge de La Cruz, Zimbra Product Manager, Andreas Chelmicki from Zextras and Dionisio Anton from Quer Systems will present from 16.40 to 17.10, at Sala CLEVER CONSULTING. Learn more about Zimbra, the best open source email collaboration solution.
Don't forget to stop by our booth to meet the team, hear about Zimbra Suite Plus and learn about new functionalities in our upcoming release 8.8.

CoTer Club 2017
Tradeshow-
June 7th
& 8th, 2017
Zimbra will be sponsoring the CoTer Club with its gold partner StarXpert. The CoTer establishes a summary of the main IT challenges faced by public organisations in France (City, Council, Department, Regions) every year. Come to our booth B03 to meet our team and learn why so many public entities choose Zimbra as their email collaboration solution.