FAQs: Features & Benefits
Q: Can I use my own custom domain with Zimbra Cloud?
A: Yes! The Zimbra Cloud Admin Dashboard leads you through the steps to add your own custom domain.
Click here for a demo »
Q: Will Zimbra Cloud work on my browser? iOS device? Android device?
A: Yes! Zimbra Cloud works on:
Chrome v80.0 (Windows, macOS, Linux)
Firefox v74.0 (Desktop)
Safari v13.0 (macOS)
MS Edge v80.0 (Windows 10)
There will be apps available soon for iOS and Android devices.
Q: What does it mean to be an administrator?
A: An email administrator or admin manages email for a team or business. The Zimbra Cloud admin uses the Admin Dashboard to:
Create new mailboxes or modify existing accounts for team members
Add your company's email domain
Create distribution lists
Manage your Zimbra Cloud subscription
An admin is assigned automatically in Zimbra Cloud. You can change and/or add admins any time in the Zimbra Cloud Admin Dashboard.
Q: Does my mailbox quota apply to just email, my cloud storage or both?
A: Your quota includes includes both your email attachments and your cloud storage.
Q: Can you explain some of the Settings capabilities?
Q: What if I forget my password?
A: If you forget your password, click the "Forgot Password" link on the login screen. A password reset link will be emailed to your recovery email address.
Click here for a demo »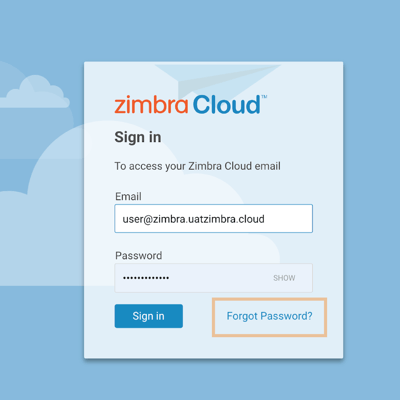 Q: Does Zimbra Cloud email work with Outlook and other applications?
A: Yes! Zimbra Cloud even offers an Outlook Connector. Click
here
for instructions.
FAQs: Privacy & Security
Q: How is Zimbra Cloud's security?
A: Zimbra Cloud supports Two Factor Authentication (2FA), message integrity, non-repudiation of origin (using digital signatures) and data security (using encryption). Here are some more detailed aspects of security and privacy.
Privacy - We only use the email data for the purpose of running the service.
PGP support – Zimbra Cloud supports email encryption tools such as OpenPGP and S/MIME, which allow you to encrypt and sign messages that only the intended recipient can view.
Encryption – Zimbra Cloud encrypts all data on the network (i.e. TLS, HTTPs, WebRTC) and at rest.
Compliance - Zimbra Cloud uses SOC compliant facilities. Our information security program and policies are based in ISO 27002-5000. Synacor is SSAE 16, SOC 2 Type 2, and PCI compliant as well as adhering to regulations like GDPR and CCPA.
Security by Design - We regularly scan code for security vulnerabilities. We regularly run 3rd party penetration and vulnerability tests on our deployments. Our cloud deployments leverage firewalls, VPN protection, anti-virus software and DDoS protection. We regularly perform activities for combatting spam, allow listing and deny listing.
Q: Does Zimbra Cloud serve ads, use my personal data or read my email?
A: No! Zimbra Cloud doesn't do any of these things.
Q: How do I reduce my unwanted email messages (spam)?
A: Zimbra Cloud has built in spam filters, but you can also select any email and mark it as spam using the button in the email window.
FAQs: Importing Your Content
Q: How do I import content from another account?
A: You can import email, calendar and contact content from any of these sources:
| | |
| --- | --- |
| | Office 365 & Outlook |
| | Gmail and G Suite Click here for a demo » |
| | Yahoo Click here for a demo » |
| | AOL |
| | Another account like IMAP, CardDAV or CalDAV account |
| | Zimbra (Open Source Edition and Network Edition) |
In Zimbra Cloud, click

in the upper right > Settings > Import from Another account. When importing from another Zimbra account, you can import your Tasks, Briefcase files and Tags. Filters, Flags and Signatures aren't imported.
Q: Can I import my contacts into Zimbra Cloud?
A: Yes! You can import contacts into Zimbra Cloud along with email and calendar content. In Zimbra Cloud, click

in the upper right
>
Settings
>
Import from Another account.