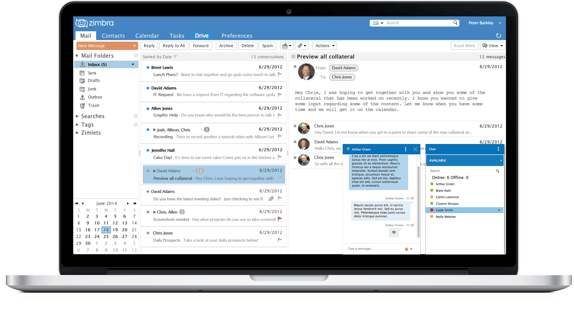 Read the Radicati Report to Learn:
Analysis of key vendors in the messaging space, based on market share, functionality and strategic vision
How individual vendors fit within specific technology markets at any given point in time
Evaluation of strengths and cautions for top 10 key vendors
Zimbra, a Synacor product, offers a full collaboration platform comprising: email, contacts, calendar, file sharing, real-time messaging and videoconferencing. It powers 100s of millions of mailboxes and works with global channel network of 1,900+ partners. More than 2,500 enterprises, 1,000 governments and 120 service providers in 140+ countries trust Zimbra.
What Does it Mean to be a Top Player?
Top Players are the current market leaders with products that offer both breadth and depth of functionality, as well as possess a solid vision for the future. Top Players shape the market with their technology and strategic vision. Vendors don't become Top Players overnight. Most of the companies in this quadrant were first Specialists or Trail Blazers (some were both). As companies reach this stage, they must fight complacency and continue to innovate.
Zimbra Strengths:
Zimbra Collaboration is an easy to deploy, fully featured platform that appeals to small and mid-size service providers, enterprises and government agencies looking for an email, messaging and collaboration platform.
Zimbra Collaboration can be deployed on-premises, in the cloud, as a hybrid solution, as a hosted service through the Zimbra Business Solution Provider Network or as a Managed Service run by Synacor.
Zimbra's solutions provide users with control of the physical location of where their collaboration information resides. Data sovereignty is a key requirement for government agencies and highly regulated industries, such as financial, academic and healthcare organizations.
Zimbra Network Edition includes four new features: Hierarchical Storage Management (HSM), Delegated Administration, Mobile and Backup & Restore.
Zimbra Collaboration Server supports document management via the integrated Briefcase or Zimbra Drive integrating Nextcloud/ownCloud. This allows users to upload documents, save attachments and share files with other users, all within the Zimbra interface.
Zimlets and APIs allow customers to download and integrate new features to customize the Zimbra experience and extend its functionality. Zimlets include integration with Webex, Salesforce.com and more.
Zimbra Collaboration mobile functionality supports ActiveSync and CarDav/CalDav for device synchronization.
Zimbra Collaboration also offers Zimbra Talk V2 messaging and videoconferencing, which includes file and screen sharing, corporate messaging and unlimited videoconferencing.
All Zimbra Network Edition functionality is packaged together for easy installation.
Zimbra X, currently in Beta, is a fully redesigned version of Zimbra that relies on a React-based Zimbra X email application and a cloud ready, cloud agnostic, containerized core architecture. It runs on mobile devices or desktops in all leading browsers. Zimbra X makes development of Zimlets faster and easier.
HOT off the presses! Request more details.