"Since it acquired Zimbra in 2015, Synacor has reinvigorated the platform," said Sara Radicati, The Radicati Group. "Leveraging the growth of APIs and the rise of the cloud, Synacor has designed Zimbra to be an open, extensible and secure platform. As a result, Zimbra is a good choice for service providers, enterprises, government agencies and regulated industries, such as finance and healthcare."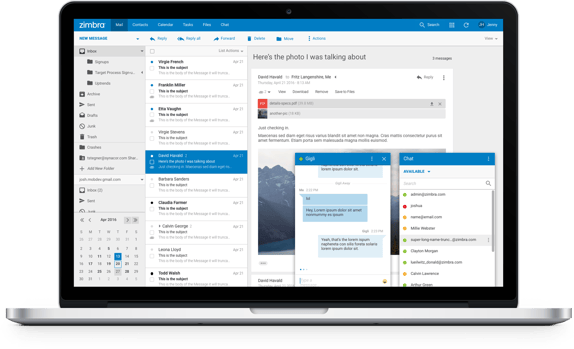 Read the 2017 Radicati report to learn:
Analysis of key vendors in the messaging space, based on market share, functionality and strategic vision
How individual vendors fit within specific technology markets at any given point in time
Evaluation of strengths and cautions for top 10 key vendors
Zimbra, a Synacor product, offers a full collaboration platform comprising: email, calendaring, file sharing, chat and video chat. It powers approximately 500 million mailboxes and works with 1,500 partners. More than 2,500 enterprises, 1,000 governments and 120 service providers trust Zimbra.
Zimbra Strengths:
Zimbra Collaboration is an easy to deploy, fully featured platform that appeals to small and mid-size service providers, enterprises and government agencies looking for a messaging and collaboration platform.
Zimbra Collaboration can be deployed on-premises, in the cloud, as a hybrid solution, as a hosted service through the Zimbra Business Solution Provider Network or as a Managed Service run by Synacor.
Zimbra's solutions provide users with control of the physical location of where their collaboration information resides. Data residency is a key requirement for government agencies and highly regulated industries, such as financial and healthcare organizations.
Zimbra Collaboration Server includes a document management Briefcase, allowing users to upload documents, save attachments and share files with other users, all within the Zimbra interface.
Zimlets and APIs allow customers to download and integrate new features to customize the Zimbra experience and extend its functionality. Zimlets include integration with Webex, Salesforce.com and more.
Zimbra Collaboration Server includes Zimbra Mobile, which offers Microsoft Exchange ActiveSync to customers.
Zimbra Collaboration now offers Zimbra Talk, which provides users with text, voice and video collaboration capabilities integrated into the Zimbra user interface.
All Zimbra functionality (with the exceptions of Zimbra Talk and Zimbra Suite Plus) is built into the core product, so customers do not have to continually purchase additional products.
HOT off the presses! Read the full Radicati report for more details.